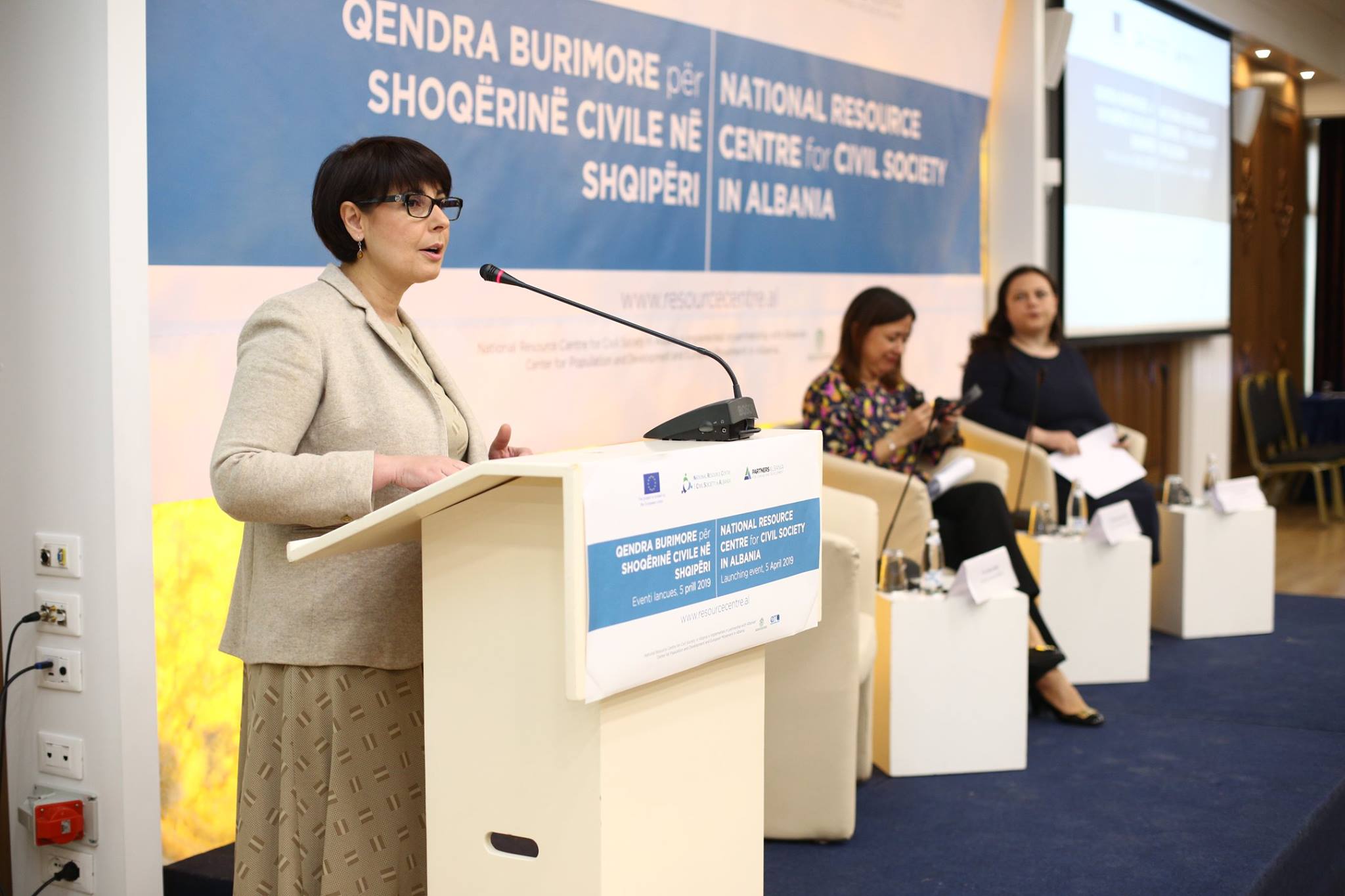 On April 5th, 2019, Partners Albania launched the National Resource Centre for Civil Society in Albania, a platform for civil society at the national level to support its capacity building, policy dialogue and advocacy efforts for an enabling environment.National Resource Centre for Civil Society in Albania is an initiative of Partners Albania, funded by the European Union, and implemented in partnership with the Albanian Center for Population and Development (ACPD) and the European Movement in Albania (EMA).
The ultimate goal of NRC is to have a civil society sector, which is an effective, accountable and independent actor in the democratization and integration processes of Albania towards European Union.
The event was organized with the special participation of His Excellency Mr. Luigi Soreca, Ambassador of the European Union to Albania and Ms. Genoveva Ruiz-Calavera, Director of DG NEAR for the Western Balkans.
In her speech Ms. Calavera emphasized that "good governance is a key political requirement for a country aspiring to join the EU family and good governance is also about the level of civil society engagement and structured participation in dialogues on reforms".
Moreover, Ms. Calavera highlighted the crucial role played by civil society in Albania during the last 3 decades generating changes specifically to pushing forward the justice reform. Ms. Calavera stressed the importance that the involved of all interested partners in policy-making has for the European Union and the strengthening of civil society as a valuable asset in the protection of democracy, emphasizing the importance of the establishment of the National Resource Centre for Civil Society and the its provision of services in this framework.
In her greeting speech, Ms.Juliana Hoxha, PA Director, provided a brief overview of the current situation of the civil society sector, highlighting a number of issues on the legal and fiscal framework, lack of dialogue and cooperation between representative structures of the civil society and the governing institutions, etc.
Presentation of the main services and activities of the National Resource Centre for Civil Society in Albania was made by Mrs. Arjola Agolli, PA Director of Programs and Manager of the Resource Centre.
The activity was attended by representatives of the civil society from all over the country, diplomatic bodies in Albania, donor and media.
Conceived as a World Café, the event provided a forum for discussion among all participating stakeholders, on the challenges of creating an enabling environment for CSOs. Issues and challenges of the civil society sector inclusion in policy and decision-making, the enabling legal environment and the provision of services to citizens and public institutions by the civil society sector as a social partner, were at the focus of the discussion. The recommendations and suggestions provided by this Forum, will be shared through the National Resource Center for Civil Society at national, regional and wider level with all actors involved in creating an enabling environment for CSOs.